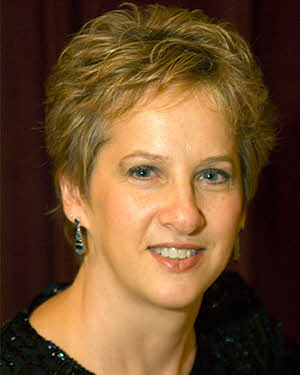 Office: MC 215Phone: (574) 535-7366 E-mail:
Professor of Music
Education
BA, Goshen College, 1979
MM, University of Northern Colorado, 1985
DMA, University of Kansas, 2003

Choir, Voice, Opera, Church Music
Dr. Debra Brubaker is professor of music at Goshen College, where she directs choir and opera theater, teaches voice and church music courses, and serves as department co-chair. She holds a Doctor of Musical Arts degree from the University of Kansas, a Master of Music degree from the University of Northern Colorado, and a Bachelor of Arts in music education from Goshen College. Dr. Brubaker was assistant professor of music at Bluffton College (Ohio) for ten years, and has taught choir in public schools in Indiana and Colorado.
Since coming to Goshen in 1999, Brubaker has directed the Goshen College Chorale and Chamber Choir, and in 2004 created the Women's World Music Choir, which performed at the 2008 Central Division conference of the American Choral Directors Association in Grand Rapids, Michigan. In addition to touring many parts of the United States and Canada, Dr. Brubaker's choirs are in demand regionally, having performed with the Toledo Symphony, Ft. Wayne Philharmonic Orchestra, and South Bend Symphony. A Toledo Blade review of a performance of Belshazzar's Feast with the Toledo Symphony described her choirs as "wonderfully prepared…. Diction was immaculate, pitch focused." A collaboration with Chicago Symphony composer-in-residence Augusta Reed Thomas elicited a description of her singers as "sophisticated and broad musically, as well as elegant and refined individuals." Dr. Brubaker and her choirs have worked and performed with such noted conductors as Vance George, Alice Parker, Donald Neuen, and Gregg Smith.
As a conductor, Brubaker works regularly with high school choirs in local, regional, and national settings. She was the invited conductor at the regional Mennonite Schools Council choral festival in Chambersburg, PA in 2009, and has led workshops in choral and hymn singing at Mennonite conferences and conventions over the past two decades.
Dr. Brubaker's voice students regularly compete and place at state and regional NATS vocal competitions, including a runner-up position in the 2010 Indiana competition. Choral and vocal graduates from her studio have gone on to study in Chicago, Boston, New York City, London, and Berlin. She regularly contributes musical, stage and orchestral direction to fully staged productions of operas and musicals at Goshen College, including Bizet's Carmen, Sondheim's Into the Woods, Strauss's Die Fledermaus, Mozart's Le Nozze di Figaro, Gilbert and Sullivan's The Gondoliers, and Stephen Schwartz's Pippin.
Dr. Brubaker is an accomplished hymn leader, specializing in international music. A research focus with hymnologist and musicologist Dr. Mary Oyer involves organizing and cataloguing original recordings of indigenous African musicians, which emphasizes one of Brubaker's passions – exploring how the use of hymn and folk singing can become a catalyst for connections between people of differing cultures, faiths, ages, and circumstances.